What is a Telescopic Handler?
Though often mistaken for a forklift, the telescopic handler possesses a number of different features that sets it apart from its fork-lifting counterpart. It is an incredibly versatile piece of machinery that can be used for a variety of different of purposes, and yet the telescopic handler is rarely at the forefront of industry conversation.
Today, we're going to change that. This article is going to explain exactly what a telescopic handler is, what it can be used for, and how a simple training course can transform your business.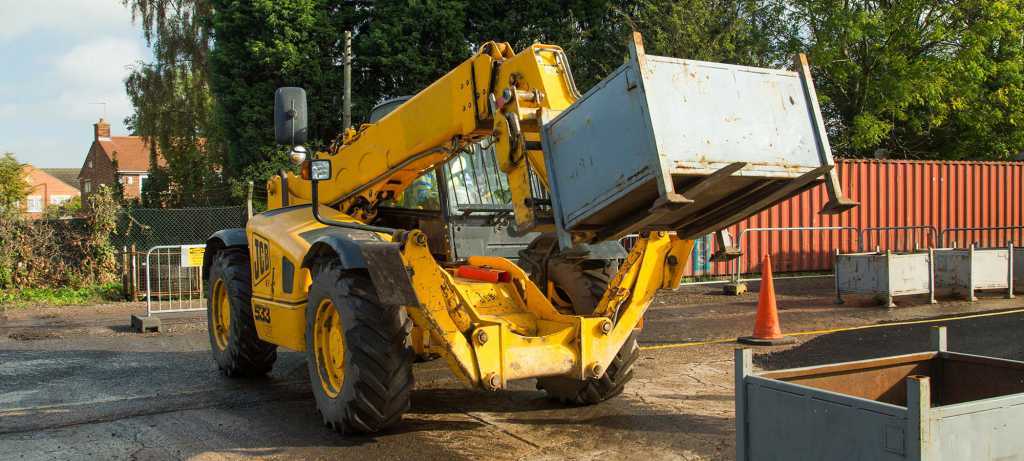 What is a telescopic handler?
A telescopic handler is an operable piece of machinery used for a wide array of tasks within agriculture or industry. Its name is derived from its telescopic cylinder, more commonly known as a boom, which can be extended forward to accommodate various  attachments.
Forklift vs telescopic handler
It is this 'attachment' feature which most significantly sets the telescopic handler apart from the forklift. Unlike forklifts, which possess an immutable pallet fork, telescopic handlers can be customised based on the job that needs to be done.
But that's not the only thing that sets the two apart. Telescopic handlers are typically much larger than forklifts, and also have a long mechanical arm that extends overhead.
What can it do?
You may use different attachments for the telescopic handler based upon the type of work your business handles. Telescopic handlers can be fitted with:
Hooks –

to be used as a mini-crane

Pallet forks

– for lifting heavy or awkward items

Buckets

– to help transport soft material like soil

Snow plough –

to clear away snow from a surface

Earth drill –

to dig into the ground

Sweeper collector –

to clear rubbish or debris from a surface

Breakers –

to break down large items for recycling before they reach crushers

and much more!
Where is it used?
Although primarily used on farms and construction sites, the sheer number of available attachments also makes telescopic handlers suitable for use in a wide range of industries. If you have a project that requires heavy lifting, drilling, transporting or clearing, a telescopic handler may be the solution. You should be aware, however, that telescopic handlers are a lot bigger than forklifts, so you will need a lot of available outdoor space to operate them.
Do I need training?
Telescopic handlers can be dangerous pieces of equipment if not used correctly. You will need to pass a training course to legally operate one. Since telescopic handlers can be used for so many different tasks, you would need to undergo a training course that is comprehensive. 
Here at Euro 1 Training, we employ some of the most experienced instructors in the industry to give you or your staff a thorough understanding about how to use telescopic handlers safely and effectively. Combining both practical and theoretical elements on operation and safety, our telescopic handler training courses cover all bases.
We provide a comprehensive training package, giving you the knowledge and skills to operate a telescopic handler with any type of attachment. With a swift pass of our course, your staff will be set to use a telescopic handler and supply your business with a wealth of its many benefits. Get in touch today to enquire further.