Telescopic handler Attachments and Their Practical Uses
Driving a forklift is a demanding operation that requires the full engagement of all of your senses as well as a full working knowledge of the vehicle. It is essential that you are driving the forklift safely at all times. Knowledge of telehandler attachments, how they work and their practical uses, therefore, is pivotal to driving a forklift safely, appropriately and efficiently. In this month's article, we'll be addressing this area to ensure you're fully prepared for your telescopic handler tests and for driving a forklift.
What Is a Telehandler?
A telehandler is a construction vehicle designed to lift heavy items. It is a combination between a crane and a forklift both in size and function. While it perhaps resembles a crane a little more in function, the arms of the vehicle resemble that of a forklift. When used correctly, it can be used to lift extremely heavy items in a safe and reliable manner. However, if used incorrectly, the vehicle can become unbalanced and lead to tipping and the endangerment of operators and other workers.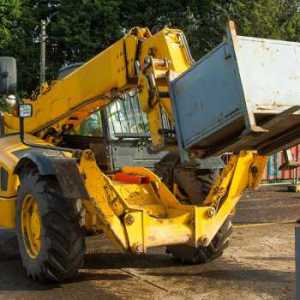 The Top Telescopic Handler Attachments
Telehandler Lifting Hooks

: These hooks are attached directly to a telehandler. They are robust and come in various sizes, from 1,000 kgs to 5,000 kgs, so you can suitably adjust it to your needs. They can carry bags and other materials and safely deposit them wherever you need them.

Telehandler Man-Riding Cages

: This attachment can provide you with a safe elevated working deck, but you must take care not to extend the cage too far away from the forklift. Doing so might put people at risk.

Telehandler Sweepers

: These attachments allow you to sweep up large floor areas quickly and efficiently. A tidy work environment is also a safer one.

Telehandler Lifting Beam

: Similar to the lifting hooks detailed above, these beams provide an elegant solution to lifting long and awkward loads. The beam has multiple loading points to allow for the loads to be slung from various points.

Telehandler Big Bag Lifter

: Two long prongs with stopping blocks on the ends that are attached to the telehandler, these lifters can be used to lift any number of large bags depending on your requirements. They are ideal for loading lorries and trucks.

Telehandler Folded Rehandling Buckets

: Buckets are the most popular and varied type of telehandler attachments you are likely to find. These can be used to either dig up materials or can be used to transport material that cannot be transported any other way. Buckets can come with claws for extra containment and brush attachments to provide an efficient waste collection mechanism.
If you're interested in finding out more about telescopic handlers and receiving training in this field, don't hesitate to give Euro 1 Training a call today. We work on a flexible basis to fit around your current commitments, even offering weekend or intensive courses, and our private practice area gives you the space to gain confidence performing even the trickiest manoeuvres.
To make things even easier, Euro 1 Training are now a DVSA Test Centre, so on top of taking your course here, you can pass your test as well. Our tests are conducted around the local area. Whether you're after an intensive one week training course or hourly lessons, you can rely on Euro 1 Training. Get in contact today for more information on any of our services – we'll be happy to help in any way we can.