Pedestrians & Forklifts: How to Stay Safe
Forklifts are a vital part of many business' operations, but it is important to ensure they are used safely and effectively to protect everyone in your premises.
Although a common sight in construction sites, warehouses and logistics businesses, forklifts are a specialist piece of plant machinery and operators should undergo professional training before using them. What's more, other members of your workforce who will be working around forklifts should also undergo safety training to ensure everyone can work together carefully and cohesively.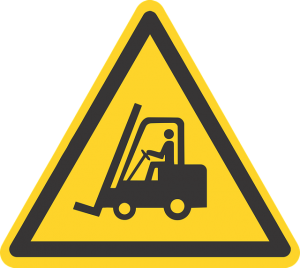 Safety for the whole workforce
Pedestrian safety around forklifts is a significant issue – according to NIOSH, around 20% of forklift accidents involve a pedestrian being injured. Important parts of safe forklift operation include traffic safety and pedestrian safety, both of which are key in preventing accidents. Both the forklift operator and pedestrians have a role to play in preventing workplace accidents. Let's take a look at some tips for safe working from both perspectives.
Forklift Operator Safety Tips
Be wary of corners and intersections, particularly when line of sight is obstructed: 

slow to a stop at such junctions and sound the horn to alert others of your presence before turning

Give right of way to pedestrians

Make use of reversing alarms and warning lights when reversing

Warn pedestrians to stand clear if you aren't sure of clearance

Don't let anyone stand, walk under, or walk close by to elevated loads

Use a spotter whenever necessary

Always give forklift operating your full attention, you shouldn't be on your phone or focusing on other distractions at any time
Pedestrian Safety Tips
Make yourself as visible as possible by wearing a high-visibility safety vest

Use designated pedestrian lanes wherever possible

Give forklifts a wide berth, their turning circle can be surprisingly wide and loads can add to this

Be aware that some forklifts can be quiet and so you cannot rely on hearing their approach to alert you

Remove earbuds as these can prevent you from hearing important warning signals or approaching vehicles

Be careful at intersections and check all lanes before crossing

Don't assume operators will see you and stop – make eye contact and wait for their signal, okaying you to pass or approach
Euro 1 Training offer thorough, accredited training for clients in and around Sheffield, Wakefield and Goole. Our courses cover a range of plant machinery, from forklifts and excavators to dump trucks and HGVs. Through our courses, you will complete both theoretical and practical training, learning all the necessary skills to become a competent operator. Health and safety, inspecting machinery and troubleshooting equipment problems are also included to ensure you have well-rounded knowledge. With courses available in evenings and weekends, we are able to meet all requirements. Get in touch today with any enquiries.