How to Read a Forklift Data Plate
In order to get the most out of your forklift, and to ensure that you operate it safely and properly, you'll need to know everything about it; what it can do and what it can't.
Forklift data plates are an easy way to learn of your truck's capabilities, and in this article, we're going to explain how to make sense of the information on your truck's data plate.
Euro 1 Training provide Forklift Training across several types of forklifts – take a look at our forklift training here, or call us on 0800 859 5940.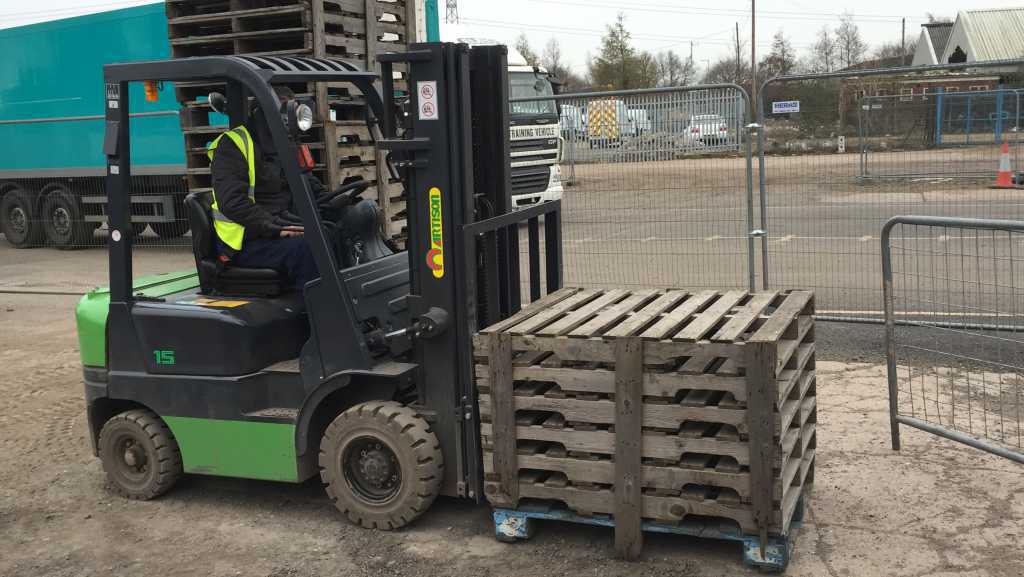 Model Number
Having your forklift's model number to hand will be of great help should you ever run into technical difficulties with your truck. Being able to contact technical support and inform them of your truck's model will allow them to narrow down the problem more easily. It will also help you learn more about your truck's capacities, as well as sourcing compatible components.
Serial Number
Sometimes displayed as 'S/N', this number is extremely helpful when contacting technical support. By giving an engineer or technician your truck's serial number, along with the problems you're experiencing, they'll be able to source the appropriate parts or determine the best course of action for your issue before they even arrive at your site.
Mast Type
Generally, forklift trucks have either single stage, double stage or triple stage, depending on the model of your truck.
Single Stage Mast
Found on smaller forklift trucks, the single stage mast is just what it sounds like, the mast of the forklift is one piece and only the carriage car move up or down.
Double Stage Mast
One of the more common forklift mast types, double stage masts allow forklifts to reach almost 2 times their original height. The mast is made of 2 sections and can extend with the carriage.
Triple Stage Mast
The triple mast is mostly used in large distribution centres, and as the name suggests, this mast type can lift the carriage to reach heights upto 3 times that of the original height.
Fuel Type
There are several different types of fuel used in forklift trucks. This section tells you whether your truck is powered by liquid propane (LP), diesel (DS), compressed natural gas (CNG), gasoline (G) or electricity (E).
Back Tilt
Back tilt is the maximum angle at which the carriage can tilt whilst still safely carrying loads. The back tilt angle is not usually very significant in size, but it still important to make note of.
Tyre Type
The type of tyres that the truck uses – similar to a car or van, the type of tyre are very important for a forklift, as you need good grip and wear.
Tyre Size
The size of tyre that the truck uses. It is always important to replace your forklifts tyre with the same tread and size as that specified on the data plate. This will specify your front and rear tyre sizes, if applicable.
Attachments
This details any attachments that have been added to the truck, such as fork extensions and side shifters. This section on the data plate will only specify attachments that have been added to the forklift from the manufacture. This will not list attachments that can be added.
Load Centre
The distance between the face of the forks to the centre of gravity of the load that the forklift is carrying. The load's centre of gravity must be no more than 24 inches from the face of the forks.
Maximum Lifting Heights
Each attachment will have a different maximum lifting height, and they'll be listed here.
Truck Weight
The overall weight of your truck.
Above are the main points of information that you'll find on a forklift data plate. It can vary depending on the make of your truck, but all manufacturers must include the following data as a legal requirement:
Model
Serial number
Forklift weight
Capacity
Load centre
Attachments
By knowing how to read a forklift data plate, you can gather a lot of useful information about your truck, which will help you to avoid the misuse of your vehicle and help to remedy any problems, should you encounter them.
Euro 1 Training are proud to be a leading provider of forklift training for individuals and corporations throughout Doncaster, Rotherham, Barnsley and the surrounding areas. We're fully accredited across a wide range of forklift training and refresher courses, so get in touch with us today to find out how we can help you.